Info
This show picks young car owners living in Los Angeles or elsewhere in Southern California and pimps their ride for absolutely no cost. An episode of Pimp My Ride generally begins with the participant showing his or her car off, and convincing MTV why it needs to be "pimped". After this segment, the host (normally rapper Xzibit, but there are occasionally guest hosts such as Chamillionaire) shows up at the participant's house, takes a look at the car himself, makes wisecracks about the particular things that are wrong with it, and promises the owner a complete makeover of the vehicle.
After examining the car, Xzibit takes it to a custom body shop (West Coast Customs (WCC) in Seasons 1–4; replaced by Galpin Auto Sports (GAS) starting Season 5), where the shop team generally replaces most of the components and rebuilds the interior and exterior from scratch, and in special cases the engine too.
Each car is custom "pimped", tailored to the personalities and interests of the owners. For example, a Need for Speed: Underground fan had his car painted to look like one specially customized in the Need for Speed: Underground 2 game, while a bowler had a ball spinner installed in his trunk, and a surfer got a clothes dryer in the back of his Volkswagen Bus. Work usually includes new paint, accessories, chrome, tires and rims, and internal electronics (DVD players, video games, large TFT screens, and other cutting-edge accessories). While most changes are only cosmetic, and mechanical work is generally only done to enable the car to run; the show has sometimes replaced entire engines. Both WCC and GAS are well-known for putting their own whimsical touches in their work, such as the aforementioned dryer, or an electric fireplace in the trunk of another vehicle.
At the end of the show, the car is revealed to its owner, as well as all the details of the renovation and the custom features; in addition, the participant is usually given a gift somehow related to the car or the owner's hobby.
Because of the edgy tone, there is a lot of humor involved from the body shop team and Xzibit himself, mostly using self-deprecating humor.
Screenshot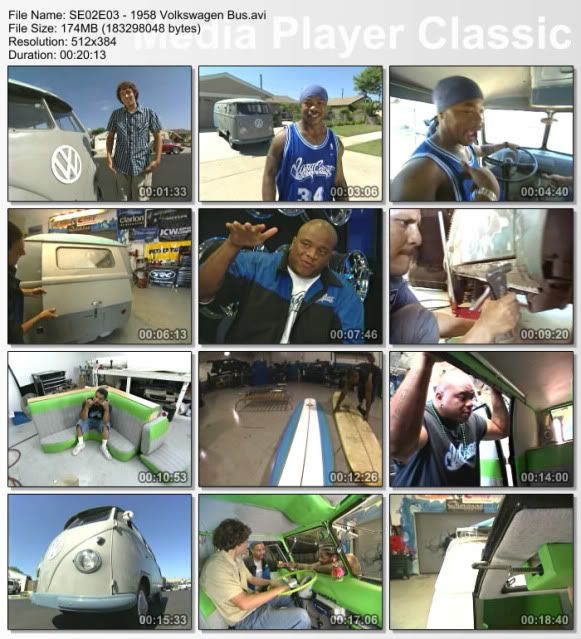 Season 1
Season 2
Labels: hammerddl, mtv, pimp my ride, tv series